Another Town, Another Guy, Another Guitar...
18 September 2008 | Admin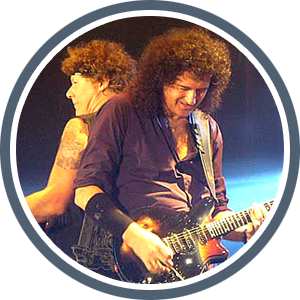 Brian May shares his love for Moscow, guitarist Jamie Moses and his BMG "Face" Guitar
Thanks, folks, for sending me such great pics of us in Moscow... This is my favourite so far (by Marina Neumoina) - me and my mate Jamie Moses in a tender moment! Ha ha!
This was the first time I used my new treasure, a BM guitar straight off the production line, but customised by Barry and Pete as a birthday present to me.
It has a great feel and sound, just naturally but - for those who enjoy this kind of stuff - we have now customised it further by wiring the pickups in parallel instead of series, so the instrument now responds in a way more reminiscent of the tone of, say - a Stratocaster - but still with the BM warmth (and still with the BM combination switching, so it is unique). I love it... for "C-lebrity" and "Crazy Little Thing", it gives me a whole new set of colours to play with.

Thanks! And thanks, good people of Moscow - for a wonderful 2-night stand. Never to be forgotten.

cheers

Bri