Guitar & Bass Magazine Reviews The BMG Bass
17 August 2014 | Admin
"Even if the inescapable Queen association doesn't appeal to you, the Brian May Bass is still a refreshing '60s-inspired instrument"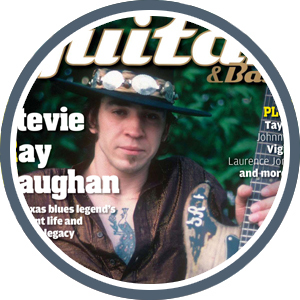 Gareth Morgan, one of the UK's foremost 4-string experts, finds that there is plenty of fun to be had with the Brian May Bass in his glowing appraisal of the instrument for the August 2014 issue of G&B.
Gareth rates highly the playability of this medium scale beauty and, construction-wise, gives particular credit to the "expertly applied" Antique Cherry finish and the "comfortable and highly playable" matching neck.
Sonically, he finds even more to be excited about... "The basic sound - both pickups on, with the tone knob at full - is excellent: nice and fat with growling lows and an overall feeling of controlled aggression".
In his summary, we think Gareth is right on the money when he declares the BM Bass "an unusual and fine-looking beast with a heap of '60s flavour which harks back to wilder times".
Better still, he found it "highly playable and great fun to whizz around on"... isn't that what bass playing should always be about!?
READ THE FULL REVIEW HERE.