BMG One Voice Signed Mini May Exclusive
11 March 2016 | Admin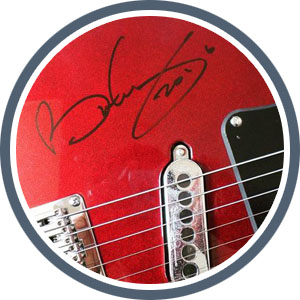 As we reported last week, the new and improved BMG Mini May travel guitar, described as a "sensation" by Brian himself, has been a big hit on the Italian leg of the "One Voice" tour with initial quantities selling out almost immediately. An urgent delivery to replenish stocks for the remaining Eastern European dates has also now completely sold out!
Whilst we are obviously overjoyed that this diminutive instrument has proved to be such a big seller, the unprecedented demand means we will be unable to supply any more Mini Mays until May/June 2016.
Needless to say, we have already received numerous requests from disappointed fans and we are determined to give EVERYONE who supported Kerry and Brian a chance to get their own autographed tour souvenir.
So the good news is that Brian May Guitars is offering ticket holders the opportunity to register now to purchase their very own exclusive Mini May, signed by Dr. May.
Simply complete the online form HERE, submitting a scan or a photograph of your "One Voice" tour ticket stub/receipt and, as soon as the next shipment is available for despatch, we will contact you with full details of how to complete your purchase.
This promotion is now closed