BMG United
5 September 2007 | Admin
The first ever Brian May Guitars sponsored junior 7-a-side soccer team grabs the headlines!
From the READING EVENING POST 03/09/2008
"Brian's Gift Is A Kind Of Magic"
A junior football team hope to be singing "We Are The Champions" after landing a sponsorship deal with Queen guitarist Brian May.
Purley Jubilee Under-10s managed to pull a few strings and strike a chord with the long-haired axeman who played on hit records including "A Kind Of Magic".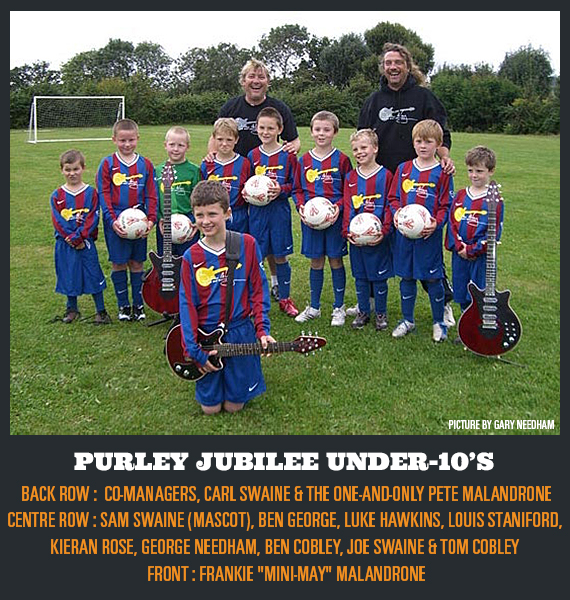 New team manager Peter Malandrone is May's guitar technician and decided to approach his boss when the costs involved in running a boys' football team became apparent and they needed a new kit. He said: "My boy joined a football team but there were too many boys so they needed another team. They asked me and my friend if we would manage them and we said 'yes'. You then realise that you need to get sponsorship and so on, so I thought I'd ask Brian. He's not a football fan at all but he's absolutely keen on supporting our team."
The sponsorship deal has financed a complete set of kit for the players, who will run out with Brian May Guitars emblazoned across their chests. Mr Malandrone said: "We just thought it would be a bit of a laugh but it's really nice of Brian to buy the lads a full new kit."
The manager, whose nine-year-old son Frankie plays at centre back, said he hopes the team will create an impression on the Hicks Development League Division Six.
"We're starting at the bottom and hope to work our way up," he said."I think the sponsorship will create a bit of a stir when we turn up at tournaments. Most teams will have Joe Bloggs' Builders or Peter's Painters on their shirts but we're sponsored by Brian May, which is certainly a bit different. We're going to put the results on the Brianmayguitars.co.uk website and we may even sell replica Purley Jubilee shirts as merchandise at his gigs."
When asked whether the team would adopt any of Brian May's Queen songs as a club anthem, Mr Maladrone replied: "Maybe we should get a ghetto blaster and play "We Are the Champions" before matches – that would get a bit of a reaction."
May famously played guitar on the roof at Buckingham Palace when he opened a celebration concert for the Queen's Golden Jubilee in 2002.