BMG Winter 2016 Special
2 November 2016 | Admin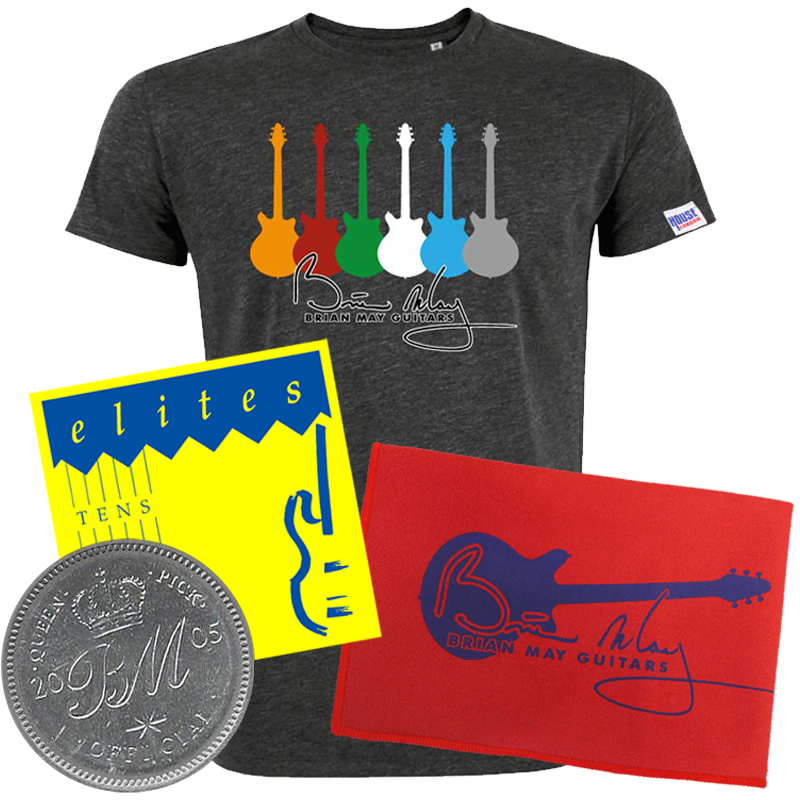 For a limited period only this season, you'll get an exclusive FREE gift pack when you purchase a BRIAN MAY GUITARS SPECIAL.
This exclusive grab bag normally retails for over £50 and contains the following items (subject to availability).
BMG 2016 T-Shirt
This special 2016 limited edition garment features a striking, 6 colour guitar screen print on a premium quality Dark Heather Grey or Black Stanley Leads shirt.
Medium, Large and Xtra Large Sizes
BMG Microfibre Cloth
Keep your Special pristine with this branded Microfibre, 2 sided, flannel polishing cloth with printed Brian May Guitars logo. 80% polyester + 20% polyamide, 200gsm, with sewn edge. Size: 35 x 35 cm.
Set of Elites Electric Strings
From House Music Limited, home to the World renowned Bass Centre Elites range of superior quality bass strings, Elites electric strings are crafted for durability, precise balance and great tone and are fitted as standard to the Brian May Guitars Special in the House Music workshop.
Available in a choice of matched gauge sets
Official Brian May 2005 Silver Sixpence
An Official UK limited edition sixpence coin minted to commemorate the 2005 Queen/Paul Rodgers tour, featuring Brian's head in profile on one side with the legend "Brian May - Queen - Paul Rodgers" around the outside edge. The flip side features a royal crest and the affirmation "Queen Pick - Official" around the "2005 BM" logo.
Presented in a circular perspex display case