Custom Colour Combinations
13 January 2014 | Admin
Customise your Brian May Special with unique combinations of finish, hardware and scratchplate sets.
We get many requests to supply a guitar with hardware and/or scratchplates in a different configuration to the standard issue and, wherever possible, we are happy to facilitate this 'In-House' at no extra charge.
Hardware and pickups are available in Chrome, Black or Gold.
Scratchplate options currently include Black, Tortoise Shell, Off-White, Gold and Cream.
Alternatively, you can refresh the look of your current guitar by purchasing a new set of plates and fitting them yourself.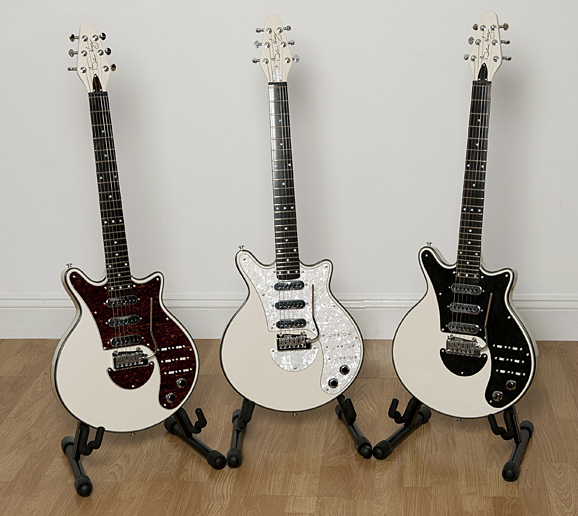 Picture shows, left to right :
Standard BMG Special in white, with Tortoise Shell plates,
White with White Pearloid plates (recently supplied to Canadian guitarist, Tony Wild)
White with contrasting Black plates - a favourite of Pete Malandrone's (reminds him of the mighty Quo!)