Frankfurt Music Messe 2007
11 April 2007 | Admin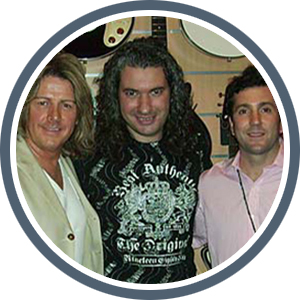 At the end of last month, Barry Moorhouse and Deano Mitchell of House Music visited the Frankfurt Music Messe, where the complete Brian May Guitars product range was being exhibited on the AMC Compernass stand.
During the Messe week they were visited and ably assisted by top German guitarist, Frank Rohles. Frank has contributed to both the German and Swiss productions of 'We Will Rock You' and was recently invited by Brian May to advise the new Toronto WWRY show on all things guitar-related.
Frank is a fantastic musician, a great ambassador for the Brian May Guitar range, owning and using several of his own BMG Specials in a variety of finishes, and has also been instrumental - pardon the pun! - in the ongoing development of the current range.