Guitar Interactive Reviews The BMG Special
31 December 2012 | Admin
"They really are very good, excellent value for money and offer great versatility for a beginner, a Brian fan or a pro"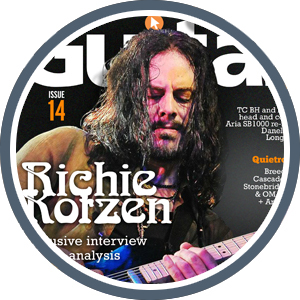 Michael Casswell is certainly no stranger to BMG, having used his handpicked Black 'n' Gold Special extensively in the pit band for WWRY London and for his superb Queen/Brian May dedicated instructional DVD's for Lick Library. So, it was entirely fitting that he was tasked with reviewing the new 2012 iteration of the Special for the latest issue of online magazine, Guitar Interactive.
Needless to say, Mike is impressed with the upgrades evident in the MK. III models... "They're getting better and better" he says, enthusing over the enhanced resonance, the quality and comfort of its neck, the performance of the newly appointed Wilkinson tremolo and the "organic" vintage sound of the BM branded Tri-Sonic style pickups.
In the accompanying video, Michael demonstrates exactly why the Special stands on its own merits as a superb studio and live instrument with a unique personality and unmatched versatility.
READ THE FULL REVIEW HERE.