The Baby Blue
10 April 2007 | Admin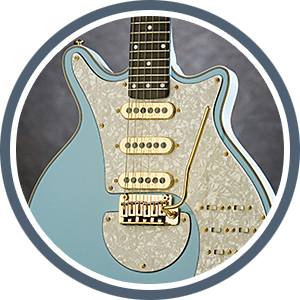 Just before Christmas, Brian May contacted the House Music office requesting a Baby Blue Special guitar as a custom order for him.
Seizing the idea, we thought it would be a nice idea to produce a limited edition run of these beautiful instruments.
With striking white pearl scratchplates and gold hardware, this is a neat twist on the Special, with a great retro vibe!
The initial production run will be limited to just 24 pieces, but we're hoping that it'll be popular enough to add to the catalogue as a standard colour,