The BMG Bass
2 June 2011 | Admin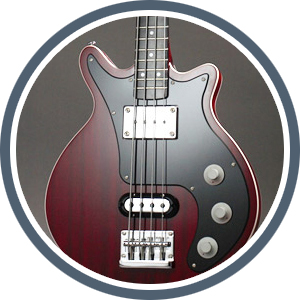 House Music is proud to announce the latest – and lowest – addition to the world renowned Brian May Guitars range of signature instruments.
The BMG Bass is a medium scale instrument, made in the same spirit as Brian's iconic Red Special, with a compact, bound mahogany body and 31.5" scale neck, topped with a 20 fret ebony fingerboard.
Tone is supplied by vintage styled, chrome covered humbucking neck and rear position single coil pickups hooked up to a classic, passive volume/volume/tone circuit.
Hardware comprises a heavy-duty, chrome, high-mass roller bridge, aluminium control knobs and state of the art Hipshot Ultralite tuners.
The 'Bri Bass' is strung with Bass Centre Elites "Detroit" flatwound strings for super-smooth fundamentals and, in keeping with the classic Brian May styling, finished in a rich Antique Cherry with a one-piece black scratchplate.

The BMG Bass has an RRP of £749.00 inc VAT, complete with premium quality padded gig bag made from hardwearing shower-proof material featuring twin rucksack-style shoulder straps, side and front grab handles, dual front pockets and a stitched Brian May Guitars logo.
Available through the Brian May Guitars website, all good music stores with exclusive worldwide distribution by House Music, London, England.