We Will Rock You Special
17 May 2007 | Admin
I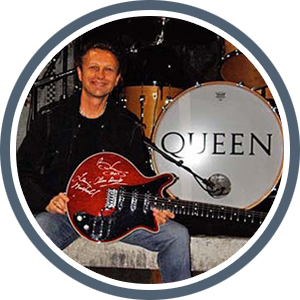 t is our policy to replace and update guitars in the smash hit musical on a regular basis. We have recently replaced one such guitar and accordingly have the following unique instrument available...

This is an original Burns Brian May model, used in every show for the last 5 years. Identified as Alan 'D' guitar on the front and rear of the headstock, this was used by Al Darby as one of the 'drop tune' guitars. Both control knobs have been changed to Gibson style with numbers, as specified by the show's MD.
Otherwise stock issue, the guitar was signed by each of the original 'We Will Rock You' guitarists - Al Darby and Laurie Wisefield - and by Dr. May himself, at the recent 5th anniversary performance (Laurie pictured here with the instrument in front of Roger Taylor's Queen bass drum).
Offered at the original retail price, this guitar is available on a strictly 'first come, first served' basis by contacting House Music directly.
All ex-WWRY Instruments are now SOLD OUT