Brian May Guitars Worldwide
With over three decades of experience in guitar specialisation, development and branding, House Music Limited - incorporating Brian May Guitars, The Bass Centre and The Acoustic Centre - has established a sterling international reputation for premium product quality, backed by an exceptional sales and global delivery service.
Over the years, House Music has built up a very distinguished client list - including Sir Paul McCartney, David Gilmour, Mark Knopfler, Steve Howe, Richard Thompson, Pete Townsend, Sinead O'Connor, Dave Stewart, Johnny Marr, Oasis, Radiohead, The Charlatans, Manic Street Preachers, Happy Mondays, New Order's Peter Hook, the late John Entwistle, Nathan East, Marcus Miller, Guy Pratt, Pino Palladino, Bill Wyman, Bryan Adams and, of course, Brian May himself.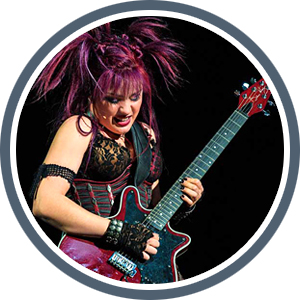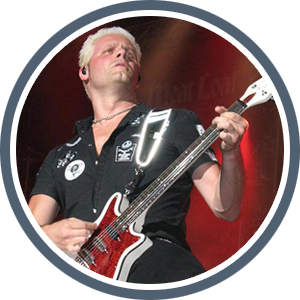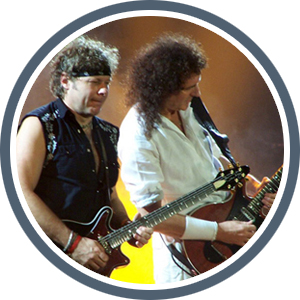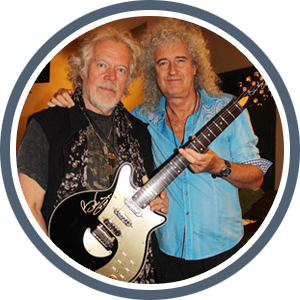 Since 2002, and the launch of Brian May Guitars, we have supplied guitars and backline to productions of We Will Rock You from London to Zurich, Las Vegas to Toronto and Cologne to Sydney and, naturally, provided Specials and Supers and more for Brian, Jamie Moses, Jamie Humphries, Neil Fairclough and the Queen tours with Paul Rodgers and Adam Lambert. We have also shipped BMG instruments worldwide... to Twisted Sister guitarists, Eddie Ojeda and JJ French, Justin Hawkins from The Darkness, veteran Canadian rocker Randy Bachman, Lynyrd Skynyrd's Rickey Medlocke, Jim Kirkpatrick from FM, Dutch guitar wizard Jan Akkerman, Paul Crook with the mighty Meat Loaf, Brit session heroes Mike Caswell and Phil Hilborne... plus tens of thousands more!
As musicians ourselves, we remain committed to ensuring that, regardless of what you buy, how much you spend or where you are in the World, we provide every single customer - professional, semi-pro, collector or hobbyist - with the same great service.
BMG Worldwide Stockists
For selected territories, House Music has established a series of international trading partnerships with a collective of resellers and distributors from whom, as carefully appointed ambassadors for the Brian May Guitars range, you can be assured of an excellent level of commitment and service.
Australia

THE ROCK INN
762 Beaufort Street
Mount Lawley WA 6050

Telephone +61 (0) 8 9371 8822
Czech Republic

BMG SHOP
Radniční 13
795 01 Rýmařov

www.bmgshop.cz

Telephone +420 602 584 032
Denmark

PRO MUSIK ApS
Adelgade 9-11
8900 Randers

www.promusik.dk

Telephone +45 86 41 11 88
France

EURODI SARL
26 Rue Gay Lussac
94430 Chenneviere/Marne

eurodiscom.jimdo.com

Telephone +33 (0) 1 563 111 70
Germany

MUSIK PRODUCTIV GmbH
Fuggerstraße 6
D-49479 Ibbenbüren

www.musik-produktiv.de

Telephone +49 (0) 5451 9090

MUSIK STORE professional GmbH
Istanbulstr. 22-26
D-551103 Köln

www.musicstore.de

Telephone +49 (0) 221 8884 1610

SESSION GmbH & Co. KG
Wiesenstraße 4
69190 Walldorf

www.session.de

Telephone +49 6227 603 10100

BEYER'S MUSIC
Kantstraße 26
44867 Bochum/Wattenscheid

www.beyers-music.de

Telephone +49 (0) 2327 3939
Hong Kong

TOM LEE MUSIC
1-9 Cameron Lane
Tsimshatsui, Kowloon

Telephone +852 2723 9932
Hungary

TONE-ITALIA KFT
1146 Budapest
Hungária krt. 190. 1. em. 2

Telephone +36 30 961 9399
Italy

CAVALLI MUSICA
Via Artigiani 1
25030 Castrezzato, Brescia

Telephone +39 030 714 6657

STRUMENTI MUSICALI
s.s. 172 Zona Industriale
74123 Taranto, Apulia

Telephone +39 099 470 7457
Japan

T. KUROSAWA & Co. Ltd.
3-27-1 Takada, Toshima-ku
Tokyo, 171-0033

Telephone +81 3 5911 3661
Mexico

QUALITY GUITAR
Av. Revolución 1600
Álvaro Obregón, San Angel
01000 Ciudad de México, D.F.

Telephone + 52 55 6386 0100
Norway

NORSK MUSIKK DISTRIBUSJON AS
PB 330, Alnabru
0614 Oslo

Telephone +47 23 37 14 20
Poland

RAGTIME
ul.1 Maja 19
Opole

Telephone +47 23 37 14 20
Russia

ROASAUDIO SERVICE
129090, Москва
Олимпийский проспект дом 16 стр.1
СК "Олимпийский", подъезд 9А, офис 6003

Telephone +7 495 785 5519
Singapore

WOODWORKZ SOUND ENGINEERING
#B1-22 Excelsior Shopping Centre
5 Coleman Street, Singapore 179805

Telephone +65 6337 5896
Sweden

BRINK'S MUSIK AB
Torsgatan 6
641 37 Katrineholm

Telephone +46 (0) 150 330 85
United Arab Emirates

ACCESS ALL AREAS LLC
6A St, Dubai
United Arab Emirates

Telephone +971 (0) 4 340 5868
UK & The Rest Of The World

HOUSE MUSIC LTD.
1 Mulberry Court, London Road
Bagshot, Surrey GU19 5DT

Telephone +44 (0) 1276 453 079
United States Of America

MUSICIAN'S FRIEND
PO Box 7479
Westlake Village, CA 91359

Telephone : (801) 501-8110

GUITAR CENTER
5795 Lindero Canyon Road
Westlake Village, CA 91359

www.guitarcenter.com

Telephone : (801) 501-8110

AUDIO IMAGES CORPORATION
701 Bryant St Fl 3
San Francisco, CA94107

Audio Images Corp.

Telephone : (415) 957-9131