The result of a fresh collaboration between Brian May and American singer, songwriter and guitarist Arielle, this exceptional instrument is the first original build that the Queen virtuoso has actively contributed to since he and his father embarked on the construction of the Red Special almost 60 years ago.
The Arielle takes its cue from classic 20th century guitar design, combining a sleek, retro-futuristic look, raised centre-strip, vintage two-piece pickguard and contrasting switchplate with the Red Special's distinctive 24" scale, 3-a-side headstock, series wound Tri-Sonics, and famous pickup/phase switching matrix.
Conceived as a competitively priced counterpart to the best-selling BMG Special, this exceptional instrument has been brought to vivid life by the House Music team to celebrate the 20th anniversary of their successful ongoing partnership with the maestro and delivers everything you would expect from a Brian May Guitar — impeccable design, superior quality, pro-spec construction, exceptional playability, and amazing tonal dexterity.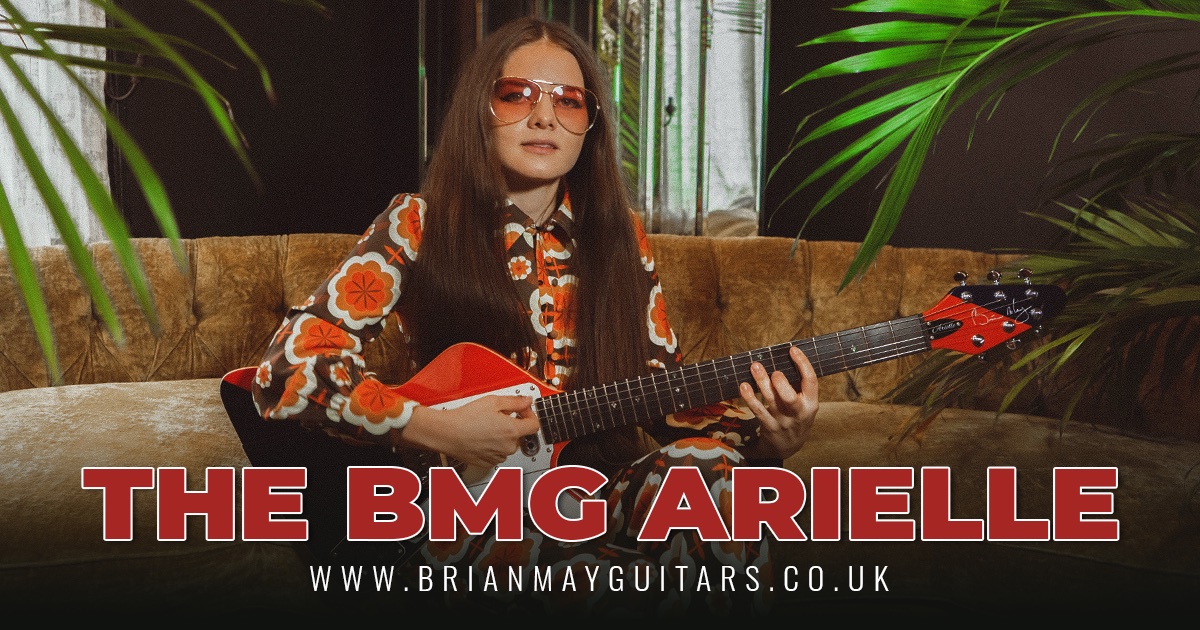 "I am a lover of life, a singer of songs, and player of guitars" — ARIELLE
Born in New Jersey, raised in California and Hawaii, and now splitting her time between the UK and and the USA, Arielle is a fiercely independent and determined young performer and recording artist blessed with a crystal clear, four-octave voice, exceptional guitar chops, and a musical style that combines the vocal purity of Karen Carpenter and Joni Mitchell with the bombastic guitar stylings of Jeff Beck and Brian May. Proudly self-identifying as a "nineties child, with a sixties and seventies soul", she has written and recorded seven self-released EPs and two long-players to date, gaining ever-increasing international notoriety and critical plaudits for her emotionally drenched, organic, classic folk-rock stylings.
Most recently, in between contributing to Eric Johnson's 2020 album 'EJ Vol. II' and the soundtrack to the Joe Bonamassa documentary 'Guitar Man', Arielle released a brand new collection – the remarkably assured 'Analog Girl in a Digital World' – in the spring of 2021, coinciding with the launch of Arielle's very own eponymous commercial guitar model.
Whilst a completely fresh product for the international playing community and a "new dimension to Brian May Guitars" as Dr. May himself proudly describes it, this remarkable instrument is actually the result of a unique team-up between Arielle and the Queen legend whose origin story begins over a decade previously.
"It was like we'd always been friends" — ARIELLE
Aged 17, and already an accomplished player, Arielle first encountered Brian May in 2007 at a signing session to promote "Bang! - The Complete History of the Universe", his collaboration with astronomer Sir Patrick Moore and fellow astrophysicist Chris Lindell, at Book Soup, the famed indie bookstore on West Hollywood's Sunset Boulevard. On meeting the maestro, Arielle recalls: "The experience was magical, yet I had seen it in my head so many times that it became real to me. It became natural. I can't tell you how many of these books I have read about manifesting your dreams, and having them become real... They work!"
Having brought along her trusty B.C. Rich Warlock to be autographed (to his request of "show me what ya got", Arielle complied by dropping a Randy Rhoads solo), an initial discussion about music began a conversation and friendship which continued when Arielle relocated to London the following year to study at the Institute of Contemporary Music Performance.
During her time in the UK, under Brian May's guidance, the young guitarist was suitably struck by the iconic Red Special to seek to fashion her own bespoke guitar from scratch, recruiting a friend (elusive Californian luthier, Patrick Yates) to assist in realising a uniquely personal concept that combined the Old Lady's feral tone and protean versatility with functional elements and appointments from several other favoured instruments, and her unabashed passion for retro-modern aesthetics.
The resulting instrument, dubbed 'Two-Tone'' (less for the distinctive orange and blue finish, than for its unorthodox dual tone controls), became Arielle's constant musical companion and inspiration for the next 13 years, as her professional career blossomed through on stage performances with Cee-Lo Green and Vince Gill, headline solo shows and support slots for Heart, Guns N' Roses, Joan Jett, Gregg Allman, Larkin Poe and Keith Urban, guest sessions with Eric Johnson, a duet with Talia Dean of Kings Daughters, and regular appearances on the hit ABC TV drama 'Nashville'.
In 2017, Arielle reconnected with Brian May during a UK tour and mentioned that she was considering producing a self-financed, commercial version of her Two Tone design… to which Dr. May, with a hugely successful guitar brand to his name, immediately suggested : "Why don't I help you?!"
"We collaborated in making the Arielle a new mission to guitarists everywhere - to open up a new door to excellence!" — Brian May
Work began the following year with the House Music Group's Barry Moorhouse duly called upon to provide the resources of Brian May Guitars and production partner, World Music, to fashion a brand new commercial instrument fusing choice elements from both Two Tone and the original Red Special.
Over the next 24 months, the project evolved via a progression of samples assembled for scrutiny at Dr. May's home in between performances with Queen + Adam Lambert throughout Europe, the USA and Australasia, and Arielle's own trans-Atlantic touring and recording commitments.
Logistics aside, gaining approval from two discerning guitarists with exacting standards yet different demands and styles may ostensibly have seemed daunting, Arielle and Brian May always shared a common purpose. "Everything was about playability, diversity, and tone." she reveals, "It needs to look sleek, it needs to be unique, while also classic and timeless, and it needs to sound GOOD at a great price. That was our goal."
The goal was achieved in the summer of 2020, despite an unexpected new challenge which saw everyone involved locked down in their respective bunkers across the world, with the final iteration fully realising this shared artistic vision, as well as representing a bold and contemporary addition to the Brian May Guitars canon.
"IT's the Red Special in a parallel universe... It REALLY does sing!" — Brian May
Eminently playable and visually arresting, the BMG Arielle sports the exact same lightweight Limba/Korina body, retro-futuristic stylings, raised centre strip and colour scheme as the original 'Two-Tone', matched with a mahogany neck, meticulously profiled and balanced to accommodate Brian May's signature 24" scale, and a smooth, vintage radius ebony fingerboard adorned with abalone diamond snowflakes. Throughout, a passion for both classic and modern design inspires the pairing of split pickguards, series wound Tri-Sonic style pickups, authentic BM pickup/phase system and distinctive 3-a-side headstock with innovative Grover locking tuners, Wilkinson two-point tremolo and industry-leading Shin-Chin electronics.
As befits a Brian May Guitar, especially one described by the maestro himself as "the Red Special in a parallel universe", the Arielle naturally inherits the BMG brand's enviable reputation for superb playability, professional build quality and tonal inclusivity, well evidenced by the audio visual samples provided here.
With a basic sound that is edgy, detailed, crisp and full, the exceptionally nuanced tonal palette delivers everything from a distinctive out-of-phase BM-approved crunch, to a rich blues voicing, to clear, bright cleans perfect for delicate fingerpicking and effect-heavy dreamscapes.
FOR MUSIC, TOUR NEWS, MERCH & MORE INFORMATION ON ARIELLE, PLEASE VISIT HER OFFICIAL WEBSITE