WELCOME TO THE OFFICIAL HOME OF BRIAN MAY GUITARS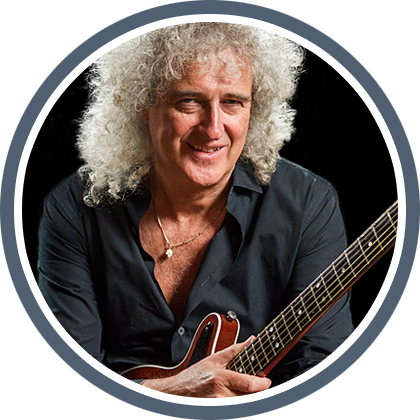 If you are interested in purchasing a guitar built to the design of my original Red Special, you have come to the right place…
It has been quite a journey to arrive at this point. Through the years there has been a multitude of replicas of the "Old Lady" built by both amateurs and professionals, including two major issues — from Guild Guitars of the USA, and Burns UK — but, as of 2004, I am pleased to say that the commercial Red Special has at last come home.
I was concerned that it ought to be me personally who controlled the design and manufacture of these instruments and so I have teamed up with Barry Moorhouse of House Music and Pete Malandrone, my long-time tech man, to create a brand new range, our aim being to make the absolute best products at an affordable price, so that all may enjoy the special sound and feel of a Brian May designed guitar.
Cheers - and Rock!!

The BMG Special
Inspired by a legend, the original BMG Special in classic Antique Cherry features striking good looks, superb build quality, awesome playability and an astonishingly rich diversity of killer tones.
In fact, it delivers everything you'd expect from an instrument engineered to the unique and exacting standards of one of the world's greatest musicians, but with an amazingly affordable price-tag that belies its superior appointments and performance.

The BMG Special LE Series
The best-selling BMG Special gets the custom treatment with a stunning selection of limited edition colourways, all featuring the same great specs, but with fantastic new finish and hardware combinations that bring a fresh look to the legendary design.
Because it doesn't have to be RED to be SPECIAL.
The BMG Super
An authentic, officially licensed, modern reimagining of the Red Special, the BMG Super is the result of an all-star collaboration between Dr. Brian May and his long serving guitar tech Pete Malandrone, House Music's Barry Moorhouse, British electronics wizard Aaron Armstrong, celebrated American machinist Ron Smith, and the superb luthiers at New Bohemia Electric in the Czech Republic.
Every aspect of The Super's construction and appointments — from the acoustic chambered, mahogany body and the famously broad neck profile to the custom made knife-edge tremolo, bridge, hardware, control knobs, strap buttons and the exclusive BMG Super® pickups — has been painstakingly rendered to recreate the storied original as accurately as possible at a price that won't completely break the bank.


BMG is proud to present the all-new Arielle collection, the result of a fresh collaboration between Dr. Brian May and American singer, songwriter and guitarist Arielle Schwartz, and the first original build that the Queen virtuoso has contributed to since he and his father embarked on the construction of the Red Special almost 60 years ago.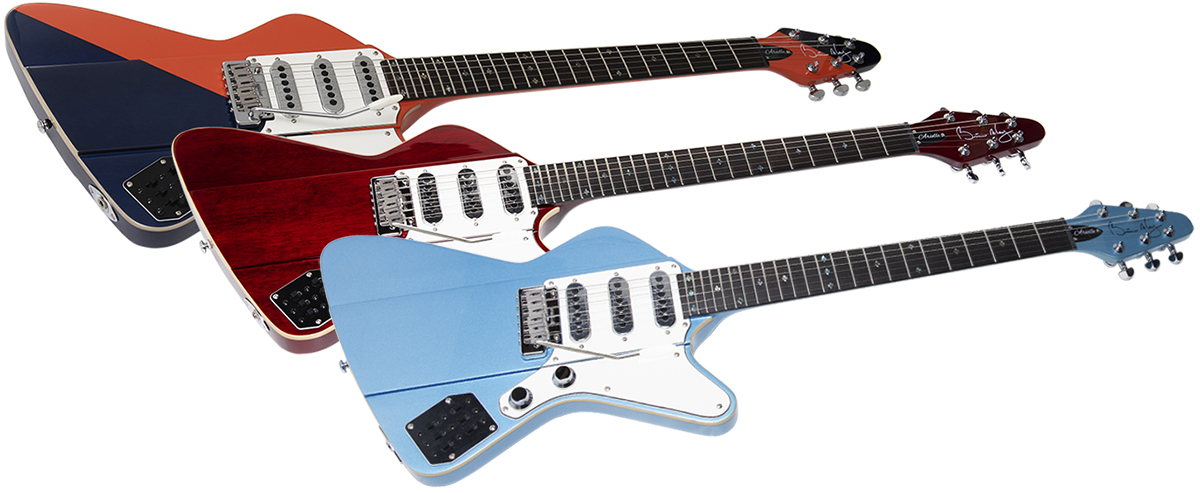 The BMG Mini May
Available in Metallic Cherry and a new Natural finish, the fun-sized, 22.7" scale Mini May, with its ultra-compact, bound meranti body, satin finish maple neck, 18 fret merbau fingerboard, and single Tri-Sonic style pickup makes a perfect travel companion.
The BMG Bass
Featuring the instantly recognisable outline and aesthetics of the "Old Lady" herself, the unique BMG BASS is a striking, retro styled, medium scale, twin pickup instrument with a powerful, rich bass response and versatile, aggressive tone.

The BMG Rhapsody
The exact same instrument played by Sir Brian May on the 2023 North American Rhapsody Tour, this superb, small-bodied, next generation electro-acoustic guitar has been designed in collaboration with the maestro himself and features the Red Special's distinctive double cutaway design and serious, pro-quality Fishman® Flex on-board electrics.



BRITISH SINGER/SONGWRITER
TALIA DEAN AND THE
BMG RHAPSODY
ELECTRO ACOUSTIC


FOR LIVE DATES & DETAILS OF TALIA'S
BRAND NEW SOLO ALBUM VISIT

The BMG Tenor Uke
Another Brian May Guitars original design, the BMG Ukulele is a perfect partner for the BMG Special or Super, as well as a fantastic, travel companion in its own right. Featuring an under-saddle pickup and fully featured Fishman® Kula on-board preamp, this tenor-sized model is equally at home on a big stage or in an intimate, acoustic environment.
The BMG Art Series
A range of limited edition BMG instruments featuring premium quality, original artwork and exclusive recreations of classic Queen album covers.