Over the years, Brian May Guitars has introduced a number of LIMITED EDITION runs of alternative finishes to our regular production model, some in response to requests from Brian himself, some inspired by pro players looking for something a little off the beaten path and some simply driven by a desire to see how far we can push the BM design concept and to prove that it doesn't have to be RED to be SPECIAL!
Each month we will be offering a different selection of colours, all featuring the same pro-grade specs as our classic Special design. All in-stock colours are available for immediate purchase... where applicable, currently unavailable finishes scheduled to come into the stock within the next few months are marked with the expected delivery date.
To register to receive a message when a particular colour is available to buy, please navigate to the relevant product page and click the email notification request bar on the right hand side.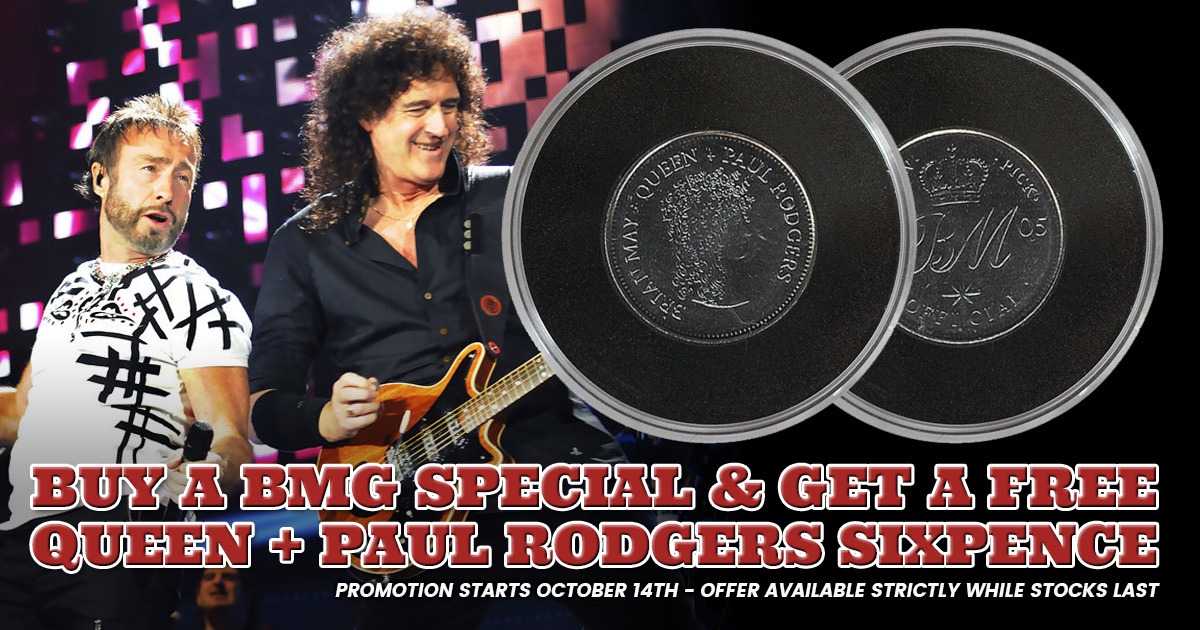 Starting Monday, October 14th for a strictly limited period, every BMG Special purchased will be accompanied by an Official Brian May sixpence produced by the British Pobjoy Mint to commemorate the 2005 Queen + Paul Rodgers World Tour. This exclusive, limited edition coin comes complete in a perspex display case.
​Promotion applies to purchases made on or after Monday, September 14th 2019 and will be available strictly while stocks last.
Please note that this exclusive coin is not available for purchase separately.
SPECIAL INFORMATION FOR BMG CUSTOMERS
In the wake of the phenomenal global success of the "Bohemian Rhapsody" movie, demand for all BMG Special variants is bigger than ever so, if the model/colour you wish to buy is marked as Currently Sold Out, please be sure to register on the relevant product page to receive an email notification as soon as that instrument is available for online purchase/pre-order.
As production is confirmed, estimated arrival times for LE SERIES finishes will be posted here... see below for an indication of which colours have already been scheduled to arrive in the coming months.
The current high demand also inevitably means that it may take us slightly longer than usual to prepare instruments for despatch, so your patience is greatly appreciated as we work hard to process orders as quickly as possible. As soon as your guitar is despatched you will receive a confirmation email with a tracking number, allowing you to follow its progress every step of the way.
The BMG Special LE • 3 Tone SunburstFrom: £725.00 (3)

The BMG Special LE • WhiteFrom: £725.00 (6)

The BMG Special LE • Windermere BlueFrom: £725.00 (1)

The BMG Special LE • NaturalFrom: £725.00

| | | |
| --- | --- | --- |
| | | Currently Sold Out |

(4)

The BMG Special LE • Black 'N' GoldFrom: £725.00

| | | |
| --- | --- | --- |
| | | Currently Sold Out |

(6)

The BMG Special LE • Baby BlueFrom: £725.00

| | | |
| --- | --- | --- |
| | | Currently Sold Out |

(2)

The BMG Special LE • Metal MayFrom: £725.00

| | | |
| --- | --- | --- |
| | | Currently Sold Out |

(4)

The BMG Special LE • Honey SunburstFrom: £725.00

| | | |
| --- | --- | --- |
| | | Currently Sold Out |

(5)

The BMG Special LE • Tangerine DreamFrom: £725.00

| | | |
| --- | --- | --- |
| | | Currently Sold Out |

(3)

The BMG Special LE • Violet DreamFrom: £725.00

| | | |
| --- | --- | --- |
| | | Currently Sold Out |

(1)

The BMG Special LE • Baby Blue ClassicFrom: £725.00

| | | |
| --- | --- | --- |
| | | Currently Sold Out |

(4)

The BMG Special LE • Emerald GreenFrom: £725.00

| | | |
| --- | --- | --- |
| | | Currently Sold Out |

(6)

The BMG Special LE • Silver SparkleFrom: £725.00

| | | |
| --- | --- | --- |
| | | Currently Sold Out |