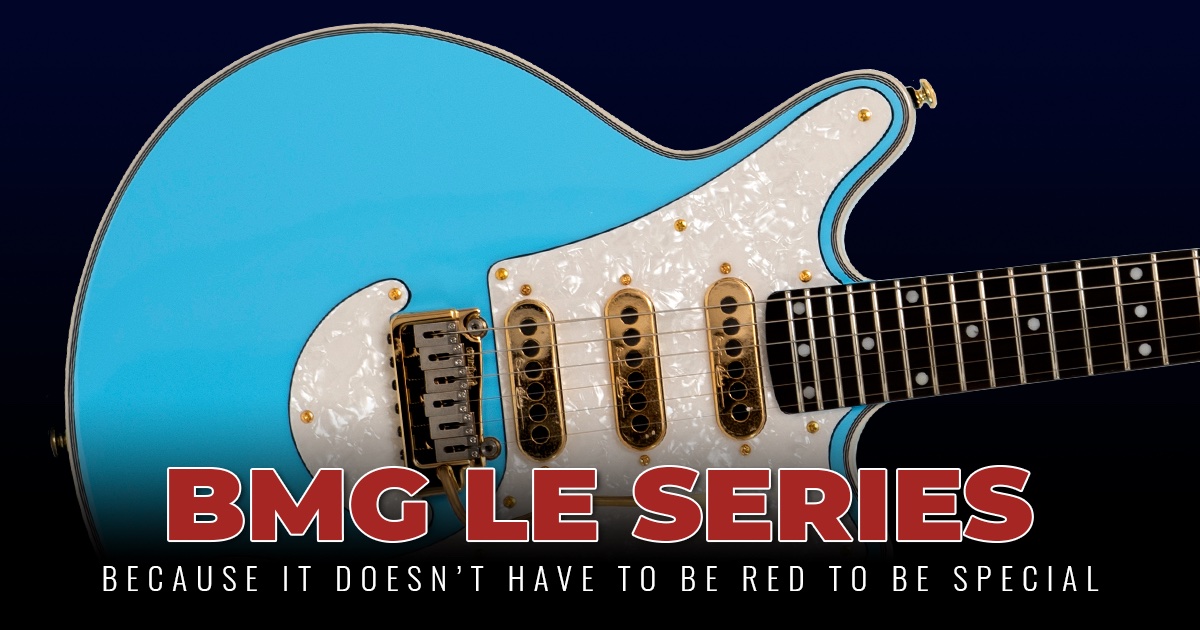 Over the years, Brian May Guitars has introduced a series of LIMITED EDITION production of alternative finishes to our regular Antique Cherry model, some in response to requests from Dr. May himself, some inspired by pro players looking for something a little off the beaten path, and some simply driven by a desire to see how far we can push the BM design concept and to prove that it doesn't have to be RED to be SPECIAL!
Each month we will be offering a different selection of colours, all featuring the same pro-grade specs as the classic BMG Special design. Where applicable, all in-stock colours indicated below are available for immediate purchase whist all finishes whose upcoming production schedule is confirmed are advertised with their expected delivery date.
For convenience, customers are invited to register to receive a message when a particular colour is available for online purchase - please navigate to the relevant product page and click the email notification request bar on the right hand side.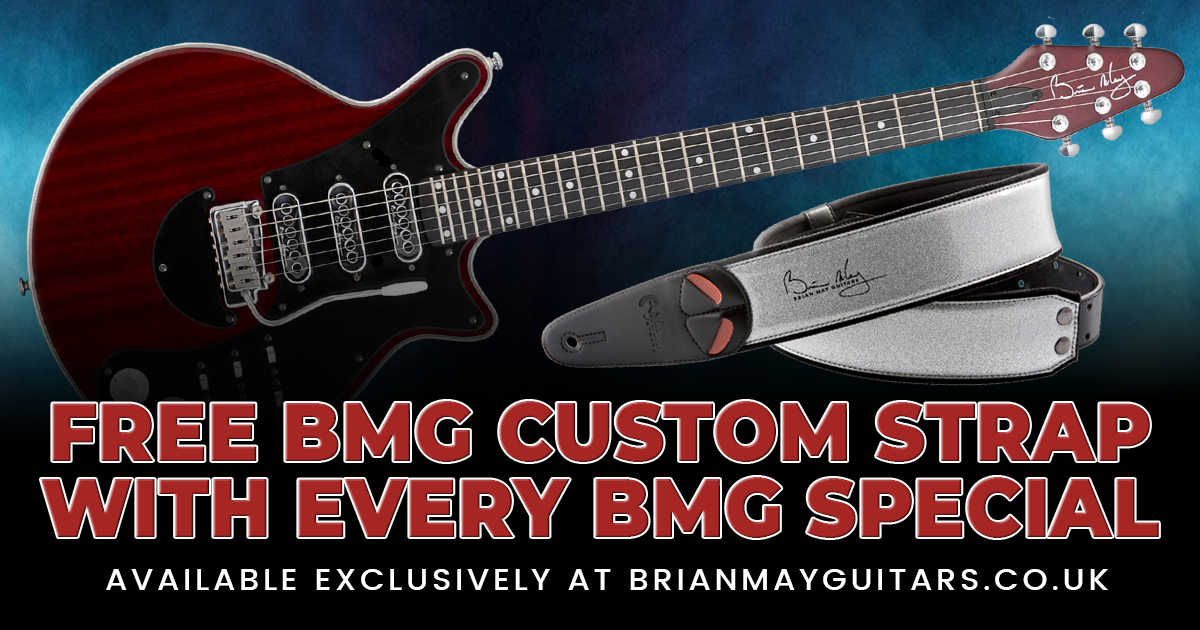 For a limited period only, treat yourself to a brand new Brian May Guitars Special, complete with free BMG Custom Strap (worth £54.50).
Elegant, environmentally friendly, practical, super-comfortable and built to last, these superb, handmade, 100% vegan signature straps feature durable, lightweight construction, non-slip, sweat-wicking microfibre lining, a unique easy adjustment system, and double pick/sixpence holder.
AVAILABLE IN A CHOICE OF COLOURS
PLEASE BE SURE TO MAKE YOUR SELECTION WHEN YOU CHECK OUT!
---
Promotion available strictly while stocks last. Free strap does not include limited edition 'Flash' design.
Offer applies to new purchases of the classic Antique Cherry BMG Special and in-stock LE Series variants.
Not available on purchases of Art Series models, signed guitars, or instruments from the BMG Tour, Hire & B-Stock collection.
The BMG Special LE • Honey SunburstRRP : £945.00Worldwide Price : £704.17UK Price : £845.00 Inc. 20% VAT (11)

The BMG Special LE • WhiteRRP : £945.00Worldwide Price : £704.17UK Price : £845.00 Inc. 20% VAT (9)

The BMG Special LE • Black 'N' GoldRRP : £945.00Worldwide Price : £704.17UK Price : £845.00 Inc. 20% VAT (11)

The BMG Special LE • NaturalRRP : £945.00Worldwide Price : £704.17UK Price : £845.00 Inc. 20% VAT

| | | |
| --- | --- | --- |
| | | Currently Out Of Stock |

(17)

The BMG Special LE • Baby BlueRRP : £945.00Worldwide Price : £704.17UK Price : £845.00 Inc. 20% VAT

| | | |
| --- | --- | --- |
| | | Currently Out Of Stock |

(5)

The BMG Special LE • Tangerine DreamRRP : £945.00Worldwide Price : £704.17UK Price : £845.00 Inc. 20% VAT

| | | |
| --- | --- | --- |
| | | Currently Out Of Stock |

(5)

The BMG Special LE • Metal MayRRP : £945.00Worldwide Price : £704.17UK Price : £845.00 Inc. 20% VAT

| | | |
| --- | --- | --- |
| | | Currently Out Of Stock |

(7)

The BMG Special LE • Emerald GreenRRP : £945.00Worldwide Price : £704.17UK Price : £845.00 Inc. 20% VAT

| | | |
| --- | --- | --- |
| | | Currently Out Of Stock |

(14)

The BMG Special LE • 3 Tone SunburstRRP : £945.00Worldwide Price : £704.17UK Price : £845.00 Inc. 20% VAT

| | | |
| --- | --- | --- |
| | | Currently Out Of Stock |

(5)

The BMG Special LE • Windermere BlueRRP : £945.00Worldwide Price : £704.17UK Price : £845.00 Inc. 20% VAT

| | | |
| --- | --- | --- |
| | | Currently Out Of Stock |

(6)

The BMG Special LE • Silver SparkleRRP : £945.00Worldwide Price : £704.17UK Price : £845.00 Inc. 20% VAT

| | | |
| --- | --- | --- |
| | | Currently Out Of Stock |

The BMG Special LE • Jubilee GoldRRP : £945.00Worldwide Price : £704.17UK Price : £845.00 Inc. 20% VAT

| | | |
| --- | --- | --- |
| | | Currently Out Of Stock |

(1)

The BMG Special LE • Baby Blue ClassicRRP : £945.00Worldwide Price : £704.17UK Price : £845.00 Inc. 20% VAT

| | | |
| --- | --- | --- |
| | | Currently Out Of Stock |

(4)

The BMG Special LE • Violet DreamRRP : £945.00Worldwide Price : £704.17UK Price : £845.00 Inc. 20% VAT

| | | |
| --- | --- | --- |
| | | Currently Out Of Stock |

(1)