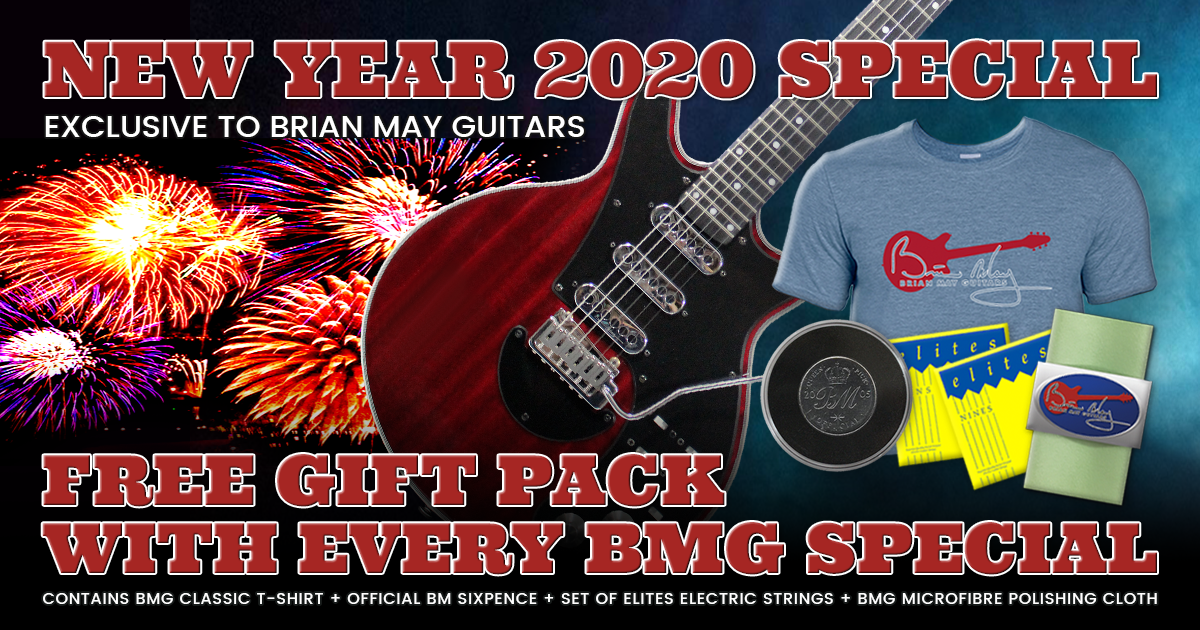 Kicking off the new decade, in addition to getting an amazing guitar at our regular discount price, every BMG SPECIAL comes complete with an exclusive FREE GIFT PACK (worth over £40)!
This Exclusive BMG New Year Gift Pack Includes :
An official Brian May Sixpence produced by the British Pobjoy Mint to commemorate the 2005 Queen + Paul Rodgers World Tour.
Brian May Guitars Classic Logo T-Shirt in Heather Indigo (Choice of Sizes)
A Set Of Elites Electric Guitar Strings (Choice of Gauges)
A Brian May Guitars Microfibre Polishing Cloth + BMG sticker
Over the years, Brian May Guitars has introduced a number of LIMITED EDITION runs of alternative finishes to our regular production model, some in response to requests from Brian himself, some inspired by pro players looking for something a little off the beaten path and some simply driven by a desire to see how far we can push the BM design concept and to prove that it doesn't have to be RED to be SPECIAL!
Each month we will be offering a different selection of colours, all featuring the same pro-grade specs as our classic Special design. All in-stock colours shown below are available for immediate purchase... where applicable, currently unavailable finishes scheduled to come into the stock within the next few months are marked with the expected delivery date.
To register to receive a message when a particular colour is available to buy, please navigate to the relevant product page and click the email notification request bar on the right hand side.
The BMG Special LE • 3 Tone SunburstFrom: £725.00 (3)

The BMG Special LE • WhiteFrom: £725.00 (7)

The BMG Special LE • Windermere BlueFrom: £725.00 (2)

The BMG Special LE • Black 'N' GoldFrom: £725.00 (6)

The BMG Special LE • Baby BlueFrom: £725.00

| | | |
| --- | --- | --- |
| | | Currently Sold Out |

(2)

The BMG Special LE • Jubilee GoldFrom: £725.00

| | | |
| --- | --- | --- |
| | | Currently Sold Out |

The BMG Special LE • Emerald GreenFrom: £725.00

| | | |
| --- | --- | --- |
| | | Currently Sold Out |

(6)

The BMG Special LE • Metal MayFrom: £725.00

| | | |
| --- | --- | --- |
| | | Currently Sold Out |

(4)

The BMG Special LE • Tangerine DreamFrom: £725.00

| | | |
| --- | --- | --- |
| | | Currently Sold Out |

(3)

The BMG Special LE • Honey SunburstFrom: £725.00

| | | |
| --- | --- | --- |
| | | Currently Sold Out |

(5)

The BMG Special LE • NaturalFrom: £725.00

| | | |
| --- | --- | --- |
| | | Currently Sold Out |

(4)

The BMG Special LE • Violet DreamFrom: £725.00 (1)

The BMG Special LE • Baby Blue ClassicFrom: £725.00

| | | |
| --- | --- | --- |
| | | Currently Sold Out |

(4)

The BMG Special LE • Silver SparkleFrom: £725.00

| | | |
| --- | --- | --- |
| | | Currently Sold Out |